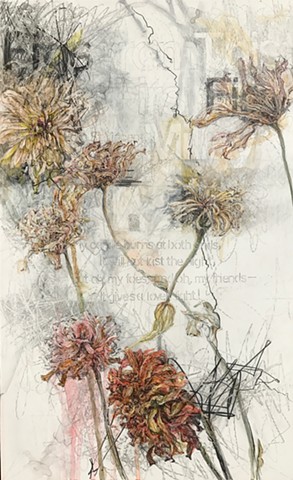 Artist Biography
Farish is known for her emotive pencil paintings, conjuring moments of clarity amid the ambiguity of grays. The youngest of four siblings raised in sunny Jacksonville, Florida, during the 60s, she remembers the scary shadow cast by the Cuban Missile Crisis. She continues to wear her elementary school dog tag, a reminder that life is fleeting. After college she joined her parents in renovating her father's North Carolina ancestral home, Oakforest. As the ninth generation to live there, she puts her faith in continuance through generations. She draws flowers and other organics, often past their prime, with great tenderness, portraying tiny delicate details next to harsh aggressive marks in pools of contradictions.
Please watch this video artist statement produced by the City of Raleigh, NC - Block Gallery Artist Series in 2017.
Farish received the 2014-15 North Carolina Arts Council Fellowship, renewing her interest in feminist issues. She has completed the Jentel Artist Residency in Wyoming, the New York Mills Artist Residency in Minnesota and two Penland Winter Residencies in North Carolina. The City of Raleigh, North Carolina, commissioned a video statement, Artist Block Series: Kiki Farish, which can be viewed on YouTube. She has a public studio at Artspace in downtown Raleigh.
Her work appears in the permanent collections of the Ackland Art Museum in Chapel Hill, North Carolina; the municipal art collections in Raleigh and Rocky Mount, North Carolina; and Fidelity Investments in Raleigh. Her work has been exhibited in a number of North Carolina venues, including the N.C. Museum of Art and Artspace in Raleigh, the Southeastern Contemporary Museum of Art in Winston-Salem, GreenHill in Greensboro and the Greenville Museum of Art in Greenville. Farish received her Bachelor of Science degree in Applied Mathematics from Meredith College in Raleigh and her Master of Fine Arts degree in Painting and Drawing from East Carolina University in Greenville. Serving as an adjunct professor at Meredith allows her to revisit her alma mater and interact with a new generation of women striving to grow.